Online casinos have been taking over the internet by storm, and thousands of new online casinos keep flooding the market. People simply love playing games in these online casinos due to the convenience they offer. The onset of a global health crisis shut down most land-based casinos worldwide, forcing many gambling enthusiasts to take their interests online.
The online casino world might seem a little daunting to someone new to online gambling. All the tremendous graphics, flashing lights, loud noises, and the sheer amount of money people win and lose in real money online casinos in a completely digital environment might become overwhelming for the uninitiated.
Fortunately, most online casinos at least attempt to give newcomers a basic understanding of how things work. After all, it is in the benefit of an online casino for new players to become acquainted with how online casinos work. A well-informed player is more likely to make bigger bets, take more risks, and deposit more money. A knowledgeable player might feel more confident than a novice and try meeting those big wins head-on.
If you are a beginner looking for some guidance on this exciting digital world, you are in luck. This post is the ultimate beginner's guide to online casinos that will give you a good understanding of all the basics you need to know for a good start to online gambling.
So let's begin.
What Are Online Casinos?
An online casino is an internet-based platform that offers a wide range of gambling games that you might typically expect to find in land-based casinos. It is, in essence, a virtual environment that lets you enjoy the world of gambling – all without the comfort of leaving your home.
You don't necessarily have to gamble real money in online casinos, but the option is available to you. You can participate in real and live bets with other players online who are betting real money. Most online casinos offer a wide range of virtual iterations of classic casino games like Poker, Roulette, Slot Machines, and Blackjack.
Online casinos are also available primarily in two different forms.
Downloadable online casinos come in the form of desktop applications or apps on Android and iOS operating systems. They require downloading the application and installing them on your computer or smartphone before you can play. The process does not take too long, and these online casinos are rich with exciting features like graphics, sounds, and several other qualities that make them worthwhile.
Web-based online casinos are more akin to the original online casinos. You can access them to play instantly using any web browser because they use Java or Flash technology that can integrate with most web browsing software and applications today. Depending on the platform you are using, you can enjoy a wide range of online casino games through web-based online casinos as well.
Getting Started With Online Casinos
Playing in a land-based casino might be a simple affair where you just go to a local casino, exchange cash for playing chips at the cage, sit down at a table, and start playing. To get started with online casinos, you need to first join one. The process of joining an online casino is a little more complicated than that, but it could be worth the initial effort for all the convenience you get through the online gambling experience they provide.
Step 1: Choose An Online Casino
There are hundreds if not thousands of different online casinos available. Going in blindly for the first ad you see is not the right way to go. We suggest doing some due diligence and taking your time to select the casino that is right for exactly what you want to get out of your experience.
Remember these key tips about choosing an online casino:
Find an online casino that offers the games you like to play,
It should have excellent reviews about its customer support and the overall experience it offers, and
It should have the necessary gaming licenses that should put your mind at ease regarding the safety of your deposits.
Step 2: Choosing How You Access The Online Casino
When selecting an online casino to join, you should look for sites that offer different methods for you to access the games, including:
Download for computers
Web-based for computers
Mobile browser
Smartphone app
Choose an online casino that offers the accessibility option you prefer. Most people love playing online casino games on their laptops, but online casino apps have come a long way in recent years to provide an immersive and exciting experience for online gamblers as well.
Step 3: Registering Yourself
Now that you've chosen an online casino and determined that they offer everything you want, it is time to register for an account. Fortunately, the process is easier than you might think with almost every online casino website.
Find the "Join Now" option on the app or platform you are using, and it will direct you to a form where you will have to enter your information. Follow through with all the requirements and select a username and password.
The platform might require confirming your account through email or text, but that is about it.
Step 4: Trying Out The Games
The best thing about online casinos and what makes them better than land-based casinos is that you can play the available games without making a deposit. Most online casinos offer free versions of their games, so you can try the games to determine the quality of the experience they offer before playing online casino games for real money.
Step 5: Making A Deposit
The last step is to make your deposit. Online casinos put in a lot of effort to get you to make that initial deposit, and this is where doing your research on different platforms can come in handy. Online gambling is a highly competitive market, and all the game providers are competing with each other to entice new players.
When making a deposit, you should look for all the best bonuses that you can find. These bonuses to sign up can come in the form of free spins, free bets, massive bonus amounts to go along with your initial deposit, and a plethora of other possible bonuses.
Skeptical people might not feel too convinced by offers that seem too good to be true, but online casino platforms really do want to do anything they can to get your business.
Different Types Of Online Casino Bonuses
Online casinos offer various bonuses to get your business. This section of the beginner's guide to online casinos will give you a quick overview of some of the major bonuses in online casinos you can expect to see and what they mean.
Welcome Bonuses: Almost every online casino offers some form of a welcome bonus, and the most common one is to match your first deposit at the casino.
No Deposit Bonuses: No deposit bonuses give you the opportunity to try out a new casino without risking any money, effectively giving you free tries.
Promotional Bonuses: Many online casinos offer promotions to keep their clients engaged, running different promotions every week, if not every day.
Reload Bonuses: A reload bonus at an online casino is a bonus granted to you when you deposit more money in your online casino account.
Sign-Up Bonuses: Sign-up bonuses or welcome bonuses are the same. Online casinos offer these bonuses to you after signing up for an account on their platform.
Free Spins Bonus: Free spin bonuses are becoming increasingly popular with online slots. Either bundled with deposit bonuses or as standalone offers, free spins let you play to win real money without incurring the risk on your bankroll.
Of course, you should not forget that these bonuses come with terms and conditions that you might have to meet to qualify for them. Perhaps the most common prerequisite that comes with qualifying to receive the bonuses or to withdraw real money made from bonuses is to fulfill wagering requirements with the online casino.
In A Nutshell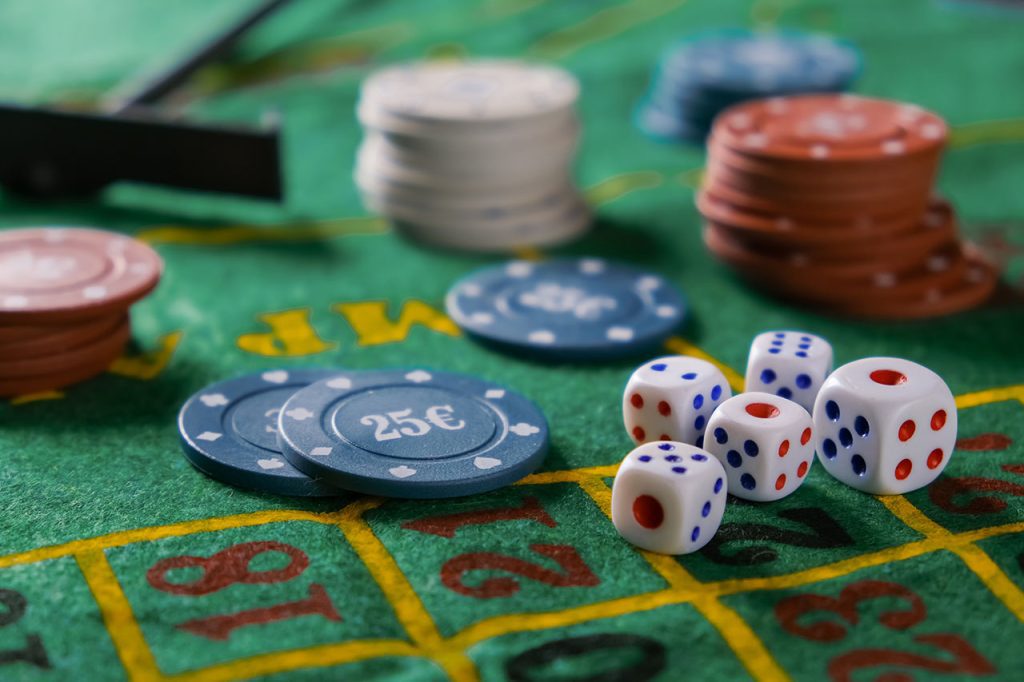 Online casinos offer several interesting games that can give you the thrill and excitement of playing your favorite casino games with the convenience of playing from home or on the move.
As with gambling in land-based casinos, it is crucial to remember that you should always gamble responsibly. It is easy to get carried away and lose track of time and the money you are spending at online casinos. Make sure you practice managing your bankroll, set the right limits for how much you will play, and play to have fun.
Online casinos, like land-based casinos, are businesses that are designed to win. Every casino has a team of mathematicians in charge of securing the house edge for the casino. Casinos throw jackpots from time to time, but not before they take a significant portion of the revenue for themselves.
Do not chase losses, remember the basics, and gamble responsibly!